Image Guided Intensity Modulated Radiation Therapy (IG-IMRT)
Radiation oncologists use image guided radiation therapy, or IGRT, to help better deliver the radiation to the cancer since tumors can move between treatments due to differences in organ filling or movements while breathing.

IGRT involves conformal radiation treatment guided by imaging, such as CT, ultrasound or X-rays, taken in the treatment room just before the patient is given the radiation treatment. All patients first undergo a CT scan as part of the planning process. The imaging information from the CT scan is then transmitted to a computer in the treatment room to allow doctors to compare the earlier image with the images taken just before treatment. During IGRT, doctors compare these images to see if the treatment needs to be adjusted. This allows doctors to better target the cancer while avoiding nearby healthy tissue. In some cases, doctors will implant a tiny marker in or near the tumor to pinpoint it for IGRT.

Radiation Oncology HealthCare doctors implement IG-IMRT using either TomoTherapy, Megavoltage Cone Beam technology or Varian RapidArc System. Your radiation oncologist will select the treatment method which is most appropriate for you.
TomoTherapy Hi·Art (at St. Agnes Hospital)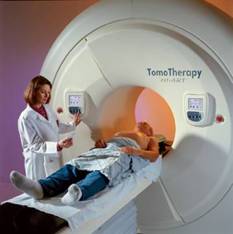 TomoTherapy www.tomotherapy.com combines a radiation therapy source (Linear Accelerator) and CT into a single unit. Radiation therapy is deliv¬ered continuously in a spiral fashion spreading the dose around the treated area. Daily real-time CT imaging allows for the most precise tar¬geting available.

360º delivery. Conventional machine design allows radiation to be delivered from only a few directions. The Hi·Art treatment system's linear accelerator (linac) is mounted to a CT scanner-like ring gantry, which means TomoTherapy treatments can be delivered continuously, from all angles around the patient. More beam directions give physicians more control in how they plan treatments—and more assurance that dose will be confined to the tumor, reducing the risk of short- and long-term side effects.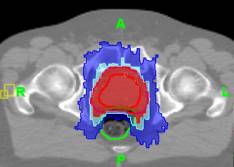 CTrue™ image guidance for every patient, every day™. The unique ring gantry design facilitates a 360º delivery pattern. Perhaps even more importantly, it integrates true CT imaging that can be used on a daily basis to guide the accurate delivery of each treatment session.
This unique system was introduced at the St. Agnes Cancer Center in the summer of 2004 under direction of Dr. Hudes and Dr. Dziuba. It was the first such installation in the Mid-Atlantic and Northeastern United States.
Megavoltage Cone Beam Imaging (at GBMC)
The Department of Radiation Oncology at GBMC utilizes MVision™
Megavoltage Cone Beam technology on two of our Siemens linear
accelerators. A true breakthrough in Image-Guided Radiation Therapy (IGRT). MVision™ is a unique, fully-integrated technology that uses the existing treatment beam to provide excellent 3 Dimentional target imaging.

This leading-edge IGRT system delivers outstanding image quality for accurate patient position. The MVision™ Megavoltage Cone Beam Imaging Package is fast, automated, and efficient and allows the entire process of image acquisition, 3D reconstruction, and automatic offset calculation to be performed in less than three minutes. So our patients can be confident that their tumors are being targetted with the greatest precision.
Varian RapidArc System (at GBMC)
Varian RapidArc www.varian.com radiotherapy technology is an effective cancer treatment representing an advanced new form of image-guided IMRT. This technology enables clinicians to program a linear accelerator to deliver precise forms of IMRT up to eight times faster than other IMRT systems. It does this by delivering the complete IMRT treatment to you in fewer rotations than traditional IMRT. As a result, your tumor will receive the full radiation dose within less than two minutes compared with 10 minutes or longer for conventional IMRT.

Treatment speed is important because it reduces the time that you must lie still and avoid any movement. As treatment time is reduced, Varian RapidArc has the potential to improve both your quality of care and comfort.