Stereotactic Radiotherapy (SRT)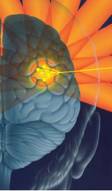 Stereotactic radiotherapy is a technique for treatment of well defined lesions in the brain and other organs (e.g small lung tumors) with a very high dose of ionizing radiation. It is frequently referred to as Stereotactic Radiosurgery. It also sometimes called according to the name of the radiation machine used for the treatment (Gamma Knife, Linac Scalpel, Cyberknife etc.)
This outpatient treatment is often an excellent alterna­tive to complex surgical procedures requiring lengthy hospitalization.
Stereotactic radiotherapy is a technique that allows your radiation oncologist to precisely focus beams of radiation to destroy certain types of tumors. Since the beam is so precise, your radiation oncologist may be able to spare more normal tissue than with conventional external beam therapy.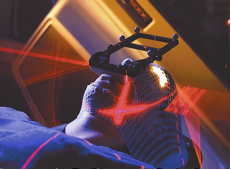 Radiation Oncology HealthCare physicians offer variety of noninvasive SRT procedures at both St. Agnes Hospital and GBMC.
SRT for the brain tumors typically is done using frameless TomoTherapy or BrainLab technology. SRT is often performed in a single treatment, although sometimes several sessions are necessary.
With very encouraging results of Stereotactic Radiotherapy for localized lung cancer this technique is being investigated in management of small tumors of the spine, prostate, pancreas etc. CT guided localization ( TomoTherapy or Cone Beam ) utilized by Radiation Oncology HealthCare physicians offers unparallel precision with a great advantage of being noninvasive.