Richard Hudes, M.D.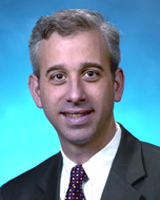 Richard Hudes, M.D.
earned his medical degree from the Medical College of Georgia in 1995, followed by an internship at the Winthrop University Hospital, NY. He then completed a four-year residency in radiation oncology at the Thomas Jefferson University Hospital in Philadelphia, PA, where he also became chief resident. After his residency, Dr. Hudes joined the faculty at the University of Maryland Greenebaum Cancer Center. Subsequently, he was named Chief of Radiation Oncology at St. Agnes Hospital in 2001. Board Certified in radiation oncology by the American Board of Radiology, he is a member of the American Society of Radiation Oncology (ASTRO), the American Society of Clinical Oncology (ASCO) and the American Brachytherapy Society (ABS). Additionally, in 2013 Dr. Hudes was distinguished as a Fellow by the American College of Radiology (ACR).

Dr. Hudes has special expertise in brachytherapy for prostate, breast and gynecologic malignancies. Additionally, his clinical interests include image-guided radiation therapy as well as participation of clinical trials for a variety of cancer types. He is the principal investigator at St. Agnes Hospital for the Radiation Therapy Oncology Group (RTOG, now known as NRG). In addition to the Saint Agnes Hospital Cancer Institute, Dr. Hudes also works with Chesapeake Urology Associates (CUA) at The Prostate Center and also performs prostate brachytherapy procedures at Summit Ambulatory Surgery Centers.

Dr. Hudes has authored a chapter on prostate IMRT for a medical textbook and additionally co-authors research papers which can be found by searching his name on Google Scholar. He is also a reviewer of scientific manuscripts for the premier radiation oncology red journal. He also participates with the ACR in health care policy analysis.


"TOP DOC:" 2009, 2010, 2011, 2013, 2014, 2015, 2016 and 2017 Dr. Hudes was named one of "Baltimore's Top Doctors" for the specialty of Radiation Oncology by Baltimore Magazine.

To schedule a radiation oncology consultation with Dr. Hudes at the Saint Agnes Hospital Dept of Radiation Oncology please contact:
New patient appointment Tel: (667) 234-2918
Clinic Tel: (667) 234-2965
Fax: (410) 951-4002

Address for Directions:
Saint Agnes Hospital Cancer Institute
Department of Radiation Oncology
Angelos Pavillion, 1st Floor
3407 Wilkens Avenue
Baltimore, MD 21229
Mailing Address:
Mailbox #128
Saint Agnes Hospital
900 Caton Avenue
Baltimore, MD 21229