Robert Brookland, MD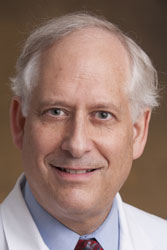 Robert Brookland, M.D.
a board-certified radiation oncologist, earned his medical degree at Georgetown University School of Medicine.
Following his internal medicine residency, he completed his residency in Radiation Oncology at the University of Pennsylvania where he was an American Cancer Society Fellow and served as chief resident. After staff appointments in the Departments of Radiation Oncology at the University of Pennsylvania and the Fox Chase Cancer Center, Dr. Brookland relocated to Baltimore where he currently chairs the Department of Radiation Oncology at Greater Baltimore Medical Center (GBMC). Also at GBMC he has been a member of the Institutional Review Board, the Medical Board, Chair of GBMC Foundation, and member of the HealthCare Board. Clinical areas of research have included published papers in the areas of breast and genito-urinary cancers, and he has served as Principal Investigator in a number of trials. Dr. Brookland is a member of the Baltimore County Medical Association Board of Governors, and chaired its Peer Review Committee. He has been a member of the Medical Advisory Committee for the Governor's Cancer Commission, Maryland Board of Physician Quality Assurance, and the Breast Cancer Committee for the Department of Health and Mental Hygiene. He served as Chairman of the Board for the American Cancer Society (ACS) Maryland, Mid-Atlantic and South Atlantic Divisions and as a member of the ACS National Board of Directors. Additionally, Dr Brookland is Vice Chair of the American Joint Commission on Cancer and on the Executive Committee for the Commission on Cancer. He has testified in Annapolis for tobacco control legislation and mammography coverage. He has been a guest lecturer at Towson University and has appeared on area TV and radio stations, and national cable programs including CNN.
Dr. Brookland's awards include:
* "Baltimore's Top Doctors": Baltimore Magazine
* Health Care Hero Finalist for Advancement in Health Care: The Daily Record
* Thomas E. Hobbins Distinguished Service Award: the Baltimore County Medical Association
* Humanitarian Award: Mildred Mindell Cance Foundation
* St. George Medal: The American Cancer Society
* Martin D. Abeloff Award for Excellence in Public Health and Cancer Control: Maryland State Council on Cancer Control
*Physician Titan: Greater Baltimore Medical Center
To schedule a radiation oncology consultation with Dr. Brookland please contact

Greater Baltimore Medical Center
6701 N. Charles Street
Baltimore, MD 21204

Tel: (443) 849-2540
Fax: (443) 849-2595