Matthew Boyer, MD.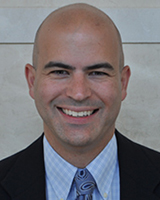 Dr. Boyer
graduated from the University of Pittsburgh School of Medicine with a combined M.D./Ph.D. degree in 2012. He completed his internship at the University of Pittsburgh Medical Center then radiation oncology residency at Duke University Medical Center. He joined the Radiation Oncology Healthcare group thereafter. He is a member of the American Society for Therapeutic Radiology and Oncology.
During his training, Dr. Boyer gained expertise in treating all sites with various techniques, his areas of particular interest include:
GI cancer
prostate cancer
SBRT
palliative care
Dr. Boyer has co-authored papers in Lancet and PNAS as well as book chapters on esophageal cancer and a Phase II study of SBRT for prostate cancer.
To schedule a radiation oncology consultation with Dr. Boyer please contact
Greater Baltimore Medical Center
6701 N. Charles Street
Baltimore, MD 21204
Tel: (443) 849-2540
Fax: (443) 849-2595